You & MD


Management Drives provides a simple language to enhance communication and teamwork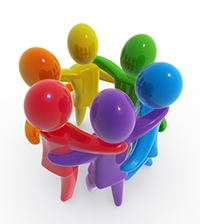 An awareness of the Drives within your organisation will help improve communication and teamwork, and can be used to build more effective and constructive working groups and practices.
Understanding the profile of those who you work with will significantly enhance lines of communication between team members. A common language is instilled that enables teams, individuals and managers to discuss tensions, highlight blind spots and enhance team strengths.
There are various ways in which you can use Management Drives:

As an Individual or Team
Understand your unique combination of the 6 drives and relate to what engages and energises you. Use this in your working life to inform your interaction with others. Combine your profile with others in your team and find out more about your dealings with your fellow team workers, the group you manage – even your boss!

As a Programme Partner
Discover Management Drives as a powerful tool to support and enhance your programme delivery whether it's in improving communication within a team, a programme of change or even major restructuring.

As a Corporate Licence Holder
If you find the approach useful it is likely others in your business will too! A corporate Management Drives license allow in-house management of the profiling process.