Using MD


360 Degree Feedback System
Management Drives introduces it's new 360 Degree Feedback System that moves performance management into a new dimension.
The 360° Feedback System from Management Drives provides clear and specific feedback on your leadership style and identifies behaviours and issues that affect your development. It enables you to stabilise your personal leadership where appropriate, or implement a renewal program where change would enhance your leadership capabilities.
The 360° feedback profile
The profile is based on a series of online questionnaires for yourself and those providing feedback. The results are presented as a 'mirror' and offer three diagrammatic perspectives. These diagrams are described briefly below.
Behaviour Pattern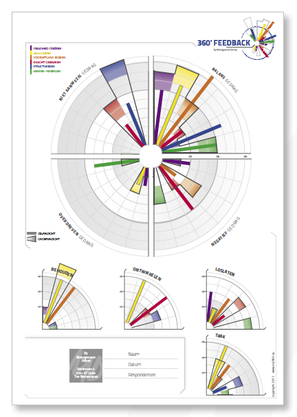 This diagram shows your behaviours, as assessed by yourself and the respondents. This is presented in four quadrants, each representing a different aspect of your behaviour: balanced, negative, exaggerated and where the behaviour is simply 'not shown'. In each quadrant, all six drives represented. The drives are shown in the order Purple, Yellow, Orange, red, Blue and Green.
The brightly coloured bars show your own assessment, and the lighter coloured area behind each bar shows the (average) rating of your respondents.
The results can all fall within the chart scales, but very strong results may extend outside. In the example shown you see that the self-assessed Orange (balanced quadrant) and respondent assessed Blue ('not shown' quadrant) extend outside the range of the chart.
Development Themes
1. Behaviours to Retain
This diagram shows the behaviours judged by yourself as characteristic of you and important to keep. Others may confirm this judgement, or perhaps show other qualities they would like to see you retain.
2. Improvement
Which behaviours do you want to improve or change? These behaviours may match your ambitions, your job, or be a trait that annoys you.
3. Behaviours to Reduce
What behaviours do experience as a hindrance and would prefer not to show? This diagram shows the behaviours that you and the respondents would prefer not to see.
Task Analysis
In light of the information presented above, what tasks should you implement to enhance your leadership capability? Clearly your role will reflect a certain drive preference. Your personal profile determines, to a large extent, how you behave. What strategy, based on the feedback, will you set to enhance your personal effectiveness and leadership ability? How well does you view of your role align with the views of the respondents?
© 2011 Management Drives Australia