About Us


Management Drives in the Australia is brought to you by Management Drives Australia, the MD franchise holder for Australia and New Zealand, working in parallel with our increasing number of Programme Partners.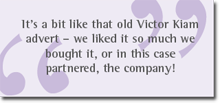 We found management Drives after searching through a range of methodologies, trying to find something that was practical and constructive, and could answer the 'So what' question after profiles have been completed. We became accredited trainers and regularly incorporate the approach into our training and consulting activities.
We love the fact that the approach is easy to grasp, applicable and instils a simple language that aids understanding and therefore communication enormously. Our experience of the tool and its effectiveness, along with the development of new approaches, software and publications plus the supportive, creative, open attitude of the team in The Netherlands has led to us becoming the Australian Licensee for Management Drives. We are thrilled to be introducing the concept to Australia and we look forward to welcoming new partners over time.